Electrical Instructions for Replacing the Alternator with a GM Alternator in a GT6
by David Wm Wrage, wrage@frognet.net
New parts: 1 GM alternator (55 Amp Unit), 1 GM Alternator 2-Wire plug replacement end, 1 Crimp-on connector, Heat shrink tubing, 1 inch metal tube spacer, 53" fan belt to replace existing belt.
Overall cost: $50.00 including new bolts, belt, alternator, washers, connectors, & plug. Sure beat the heck out of a new/rebuilt cost of a Lucas Alternator with a lesser output.

Labor: Actually, it wasn't that hard. Maybe about 1/2 hour to 1 hour, depending on skill level.

Step 1: Unhook positive cable from battery.
Step 2: Unplug wires from alternator.
Step 3: Remove Lucas alternator from brackets/mounts on engine.
Step 4: Move upper swing arm bracket to a new location at the bottom front of the engine.
Step 5: Trim old plug off of wire & slip on heat shrink tubing.
Step 6: Crimp on post connector to largest of Brown wires (The one going to the Starter/Battery)
Step 7: Splice the brown/yellow wire to the terminal 1 wire on the replacement GM plug.
Step 8: Splice the remaining brown wire to the terminal 2 wire on the replacement GM plug.
Step 9: Heat up the heat-shrink tubing and seal the wires.
Step 10: Mount Alternator in place. You will need to use a 1 inch spacer block/tube on the swing arm bracket, this will necessitate a new bolt to mount it. Don't forget the belt.
Connect the crimped connector to the (+) positive mount on the alternator and plug in the GM plug into the alternator.
See pictures below for additional info. Unfortunately the replacement plug came with 2 white wires.
Double check wiring, the re-attach battery cable.
Enjoy the alternator's output.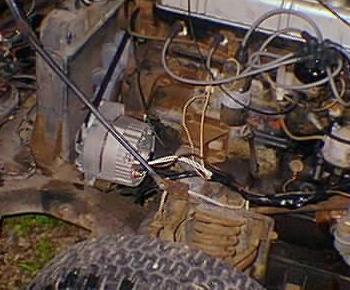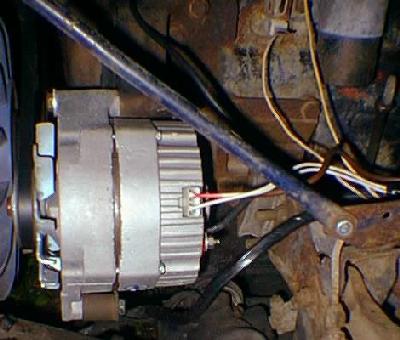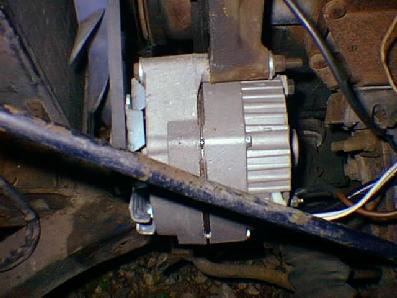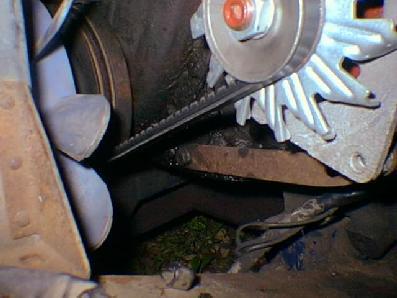 David Wm Wrage
1972 Triumph GT6 Mk III
wrage@frognet.net

Entire contents copyright 1995-2005 Vintage Triumph Register. It is unlawful to reproduce, transmit, either in analog or digital form, any content contained herein. With some restrictions, VTR chapters and zones may utilize this site's content. Click here for details.

Questions or comments about this site? Please email webmaster@vtr.org.